Dedicated to getting our Bend community moving better faster.
At Therapeutic Associates Physical Therapy at the Athletic Club of Bend, our team of experienced physical therapists will work with you one-on-one to develop an individualized plan of care that expedites your recovery. With a focus on manual therapy and functional strength and conditioning, we strive to empower you to reach your goals and get you back to enjoying the active recreation Central Oregon has to offer as quickly and safely as possible.
Offering personalized treatment and care.
Our locally owned and operated clinic is conveniently located upstairs within The Athletic Club of Bend, where we feature private treatment rooms in addition to our access to the Club's facilities. We actively utilize the Club's weight room, basketball and tennis courts, indoor track and therapeutic warm pool in our creation of customized treatment and care plans for our patients. 
We are committed to fostering a healing environment that supports individuals of every age and ability. Our team of therapists specialize in a range of treatment options, including aquatic physical therapy, golf fitness and performance, therapeutic yoga, post-mastectomy rehabilitation, pelvic health, pediatric orthopedic physical therapy and ASTYM treatment.
Actively engaging with our local communities.
We are committed to supporting the community of Bend, OR and all of Central Oregon as a healthy, active community. As rehabilitation, movement, and wellness specialists, we believe in giving back via our time and resources. We partner with The Center Foundation, XC Oregon, Central Oregon USASA, Summit High School Booster Club, World Muse, Oregon Adaptive Sports, and Bend FC Timbers, among other organizations, to foster, support, and promote an active lifestyle to everyone.
Bend's premiere resource to taking your golf game to the next level.
Check out our clinic space located in the Athletic Club of Bend.
Our clinic was designed to empower every patient to reach their full potential, incorporating private treatment spaces and dedicated exercise areas.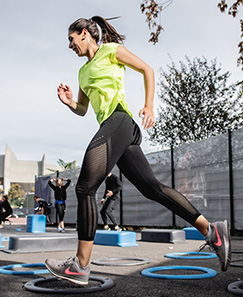 Whatthey say...